Nea Makri to Mati 
The best way to truly discover an area is to take a self guided walking photo walk of the area you are visiting. I love to walk and I enjoy taking my camera along and hopefully introducing you to a different part of Greece. Nea Makri is located just 25 min from Athens airport and within easy reach of Rafina port and boats to several islands. It is only a 40km drive into central Athens and  it makes it a ideal holiday destination to discover parts of the Greek mainland.
This walk  takes you from the main port of Nea Makri to Artion Cafe in the heart of Mati and making some ideal photo stops along the way.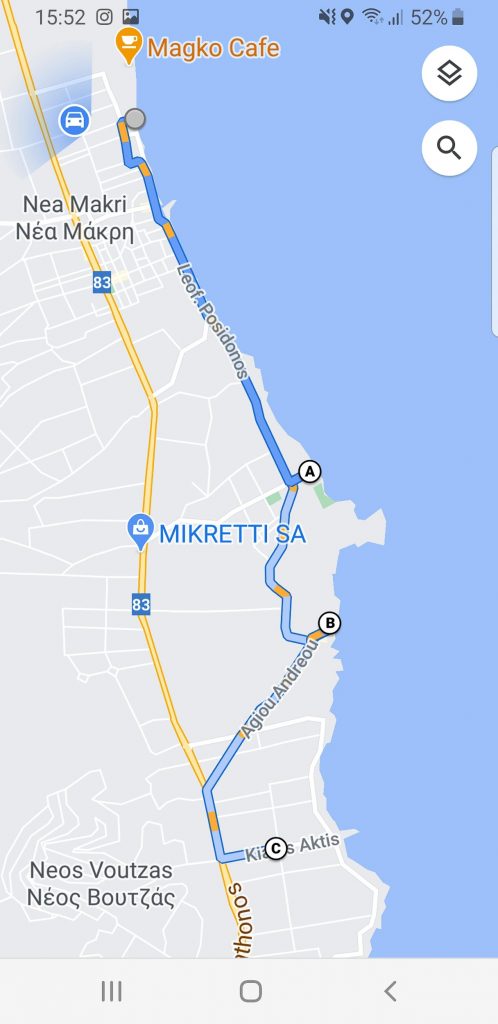 Nea Makri Port
La Costa beach club Zoumberi
Ag (St)  Andreas Beach chapel
Through the summer camp wooded area
To Artion Cafe with views over the agean over to Evia island
Nea Makri Beach
We started our 7.8km route on the beach in Nea Makri and walked  along the single lane road. This road without pavements in parts so take extra care, Greek drivers don't pay much attention to pedestrians.
Zoumberi Village
Our first stop was the tiny village of Zoumberi and the famous La Costa Beach club. La Costa is a bustling beach club in the summer months and a beautiful beach walk all year around. In Zoumberi there a few bars, pizza and coffee areas along with a summer outdoor cinema.
After the beach of La Costa the road takes you up a slight incline into the wooded area of the summer camps. The road meanders around and you find yourself back on the beach at the Saint (Ag) Andreas beach. A perfect photo spot any time of the year.
St Andreas Chapel
Kimiseos Theotokou Church
From this beach area we walked  on a slight incline  through some wooded areas and passed the larger church of Kimiseos Theotokou Church
There are so many little photo opportunities along the way, lots of flowers adorning the streets and small summer Villas located in the area.
Artion Cafe
Finally we reached our destination today which was  Artion Cafe, the perfect spot to sit up on the hill side over looking the beautiful Aegean and island of Evia. This coffee shop offers its own freshly made pastries along with a full meals menu, they even have a cozy seating area for the cooler months too. Sadly much of this area was ravaged by wildfires in 2018 but it is slowly coming back to life, with many of the villas gradually being  renovated.
Overall this was a fairly easy walk and keeping your eyes closely on the cars it would be a good walk for families with children too.
Safe Travels Sandra X