So in April we swapped the stunning  skyscrapers of Dubai after 22 fabulous and truly awe inspiring years and now we are nestled in nature with 4 seasons, great food, true hospitality  and the sparkling blue waters of Greece. Our plan is to discover the Mediterranean way of life  and find the pure beauty of this ancient land. Spyro is originally from Greece and we have shared most summers here with family and friends keeping our children  true to their roots. Our aim is to share with you some of the "not so known" villages in Greece and our top tips how to connect with  true Greek lifestyle & traditions – our way !!!!
Our starting point !
Nea Makri is  a small  fishing seaside town on the Greek mainland just 30 min drive from Athens international Airport  and 15 min to the slightly larger port of Rafina where you can catch the ferry to our favourite Island Mykonos along with Andros, Tinos and many others Greek islands waiting to be discovered. Whilst we have spent many summers here we know there is so much to discover in this little corner of Attica and beyond.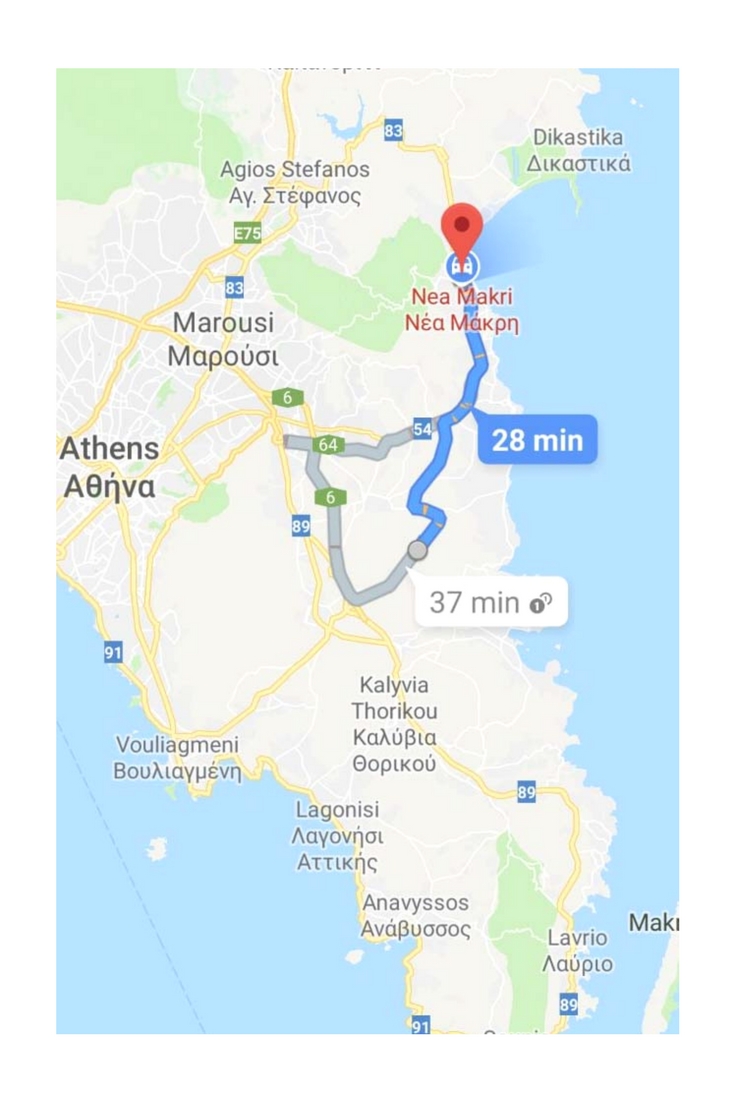 Places to stay 
Join us on our first discovery , what are the best things you must try when you visit Nea Makri. the village we now call home.
Nea Makri Marina
Staring at the little fishing boat Marina Nea Markri is picture perfect for those family vacation photographs. At dusk these tiny fishing boats can be seen heading out into the calm blue waters and early in the morning you can purchase their catch from them. There is also a chance for you to try the fishing trip experience with Armenistis Fishing tours.
The Pear Project
Over looking the Marina and beach front is one of our favourite morning stops for a leisurely coffee or even in the evening for one of the best Margaritas we have had . The Pear project is a beautiful designed refreshment stop with its cute interiors, soft tunes and expression wall with little sayings " find joy in the Journey" & "Let's travel new roads"  The Greek people like nothing more than to sit in a coffee house for endless moments chatting to strangers and we have met some very interesting locals so far and the Pear Project is excellent for these moments.
Church of Saint kiriaki ( St Sunday)
At the end of the beach close to the Golden Coast hotel you will find nestled on the shore line a small island style church of Saint Kiriaki. Such an idyllic spot and during the summer months we often see this quaint church host Orthodox weddings and very important in Greek culture, Baptisms too. Such a perfect location for any family gathering photo shoot and I often take vacation photos in this area.
Sanctuary of Egyptian Gods
The sanctuary to the Egyptian gods is open daily during the months May to October and free to enter and visit this archaeological site – however I cannot say it is open every day we have walked past many days when it seems all locked up. It is an easy site to walk around and the statues are still very well presented, so when open certainly worth a visit.
Magko Cafe/beach Bar
This cute cafe bar is full on weekends and during the summer a favourite hang out for both young and old alike !  We spend many days here and it is the perfect place to swim, a little rocky when you enter the sea but it is a "European Blue Flag" awarded beach and the crystal clear blue waters are so refreshing. Waiters Alexandros and Dimitri always on hand to supply coffee/wine/beer/fresh juice and they do a great pizza too. It is the perfect location for a cheeky sundowner and when the sun drops below the horizon the  sounds increase and turns into a chill out evening bar. During the warm days of spring you often find people swimming but I will hang on until there is not a "R" in the month to venture in.
If you find yourself in this stunning part of Greece do pass by and say hello!  I hope you have enjoyed sharing our first days in Greece and keep watching for hopefully many more posts.
Safe travels
Sandra x