Monemvasia
A mini guide that I hope gives you an over view of what to expect on a trip to Monemvasia which makes the perfect mini/weekend trip if you are visiting the mainland of Greece.
The Castle Town of Monemvasia often renamed the little  "Gibraltar of Greece" and it is a trip into the medieval dark ages! Many of the houses have been standing over 800 years was home to the Spartans escaping the wrath of the Slavic, Ottoman and Sicilian invaders. Situated on the tip of the Peloponnese it was the first city to be liberated by the Greeks during the War of Independence in 1821.
Location 4.5 hours from Athens – 340 kilometers
South east tip of Peloponnese, drive to the town on the mainland then cross a bridge to the Castle town. There are small hotels on the mainland town too but we decided to stay in the castle town on the rock itself.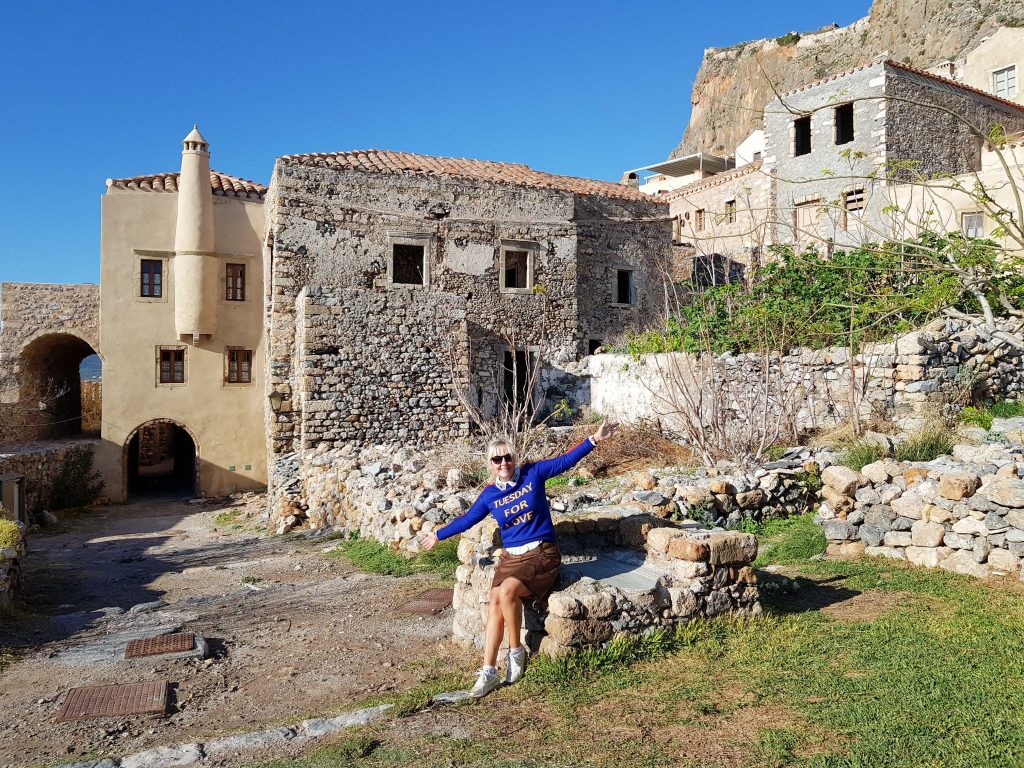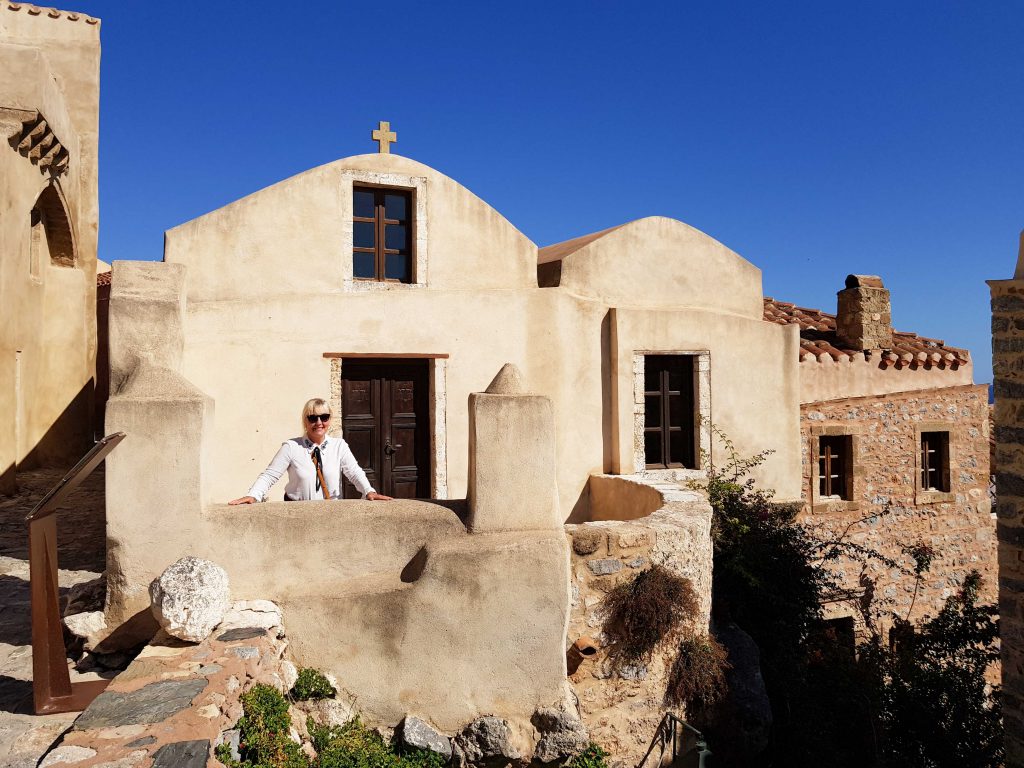 Where we stayed  – www.ardamis.gr
Ardamis – boutique guest house I can highly recommend the historic stone-built Ardamis offers traditional and spacious accommodation. It features an 800-year old well and some rooms have panoramic sea views. The nearest rocks to swim off is 30 m away and close to cafes & shops just 40 m but steep cobbled paths.
The beds were very comfortable and there was great WiFi signal throughout. Each room has a mini kitchen for including tea & coffee, hair dryer and Korres bathroom products.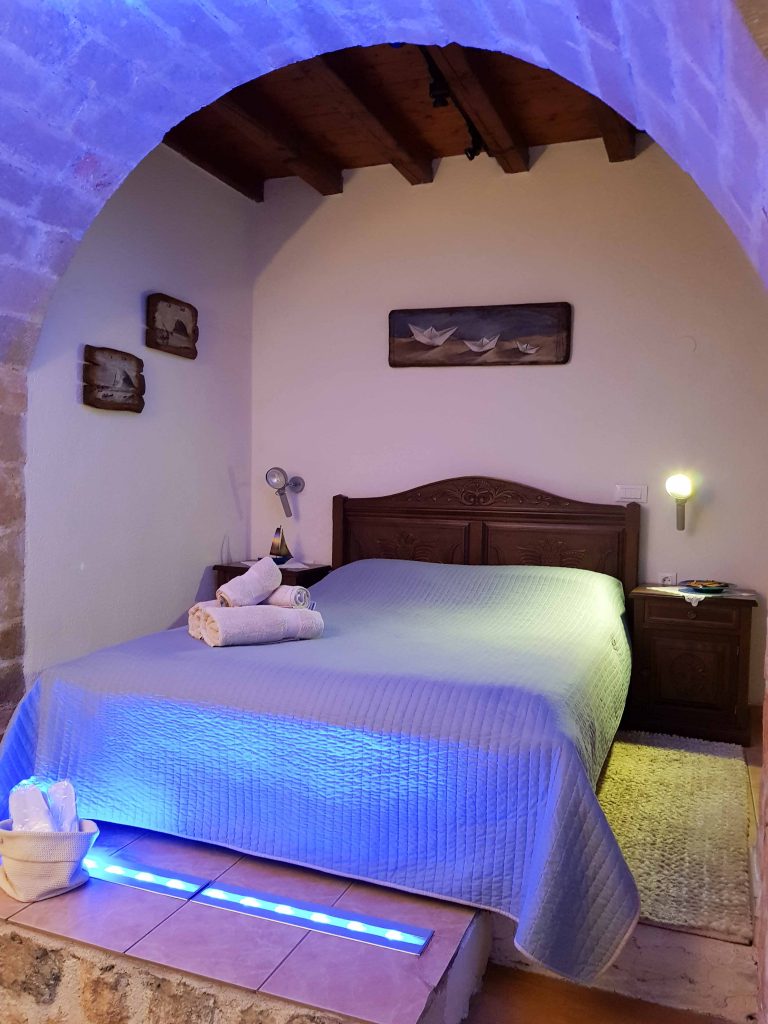 Our favourite places to eat – there are only 7 restaurants in the town and each one offers there own style of dishes.
H Matoula – This restaurant doors have been open for almost 60 years and the Greek hospitality is extended through its very friendly and accommodating staff.
Famous for local wines of the Peloponnese, always ask what the dish of the day is, we had some amazing meatballs in tomatoes sauce – Soujoukaki and the famous Mousaka. Again we were offered Orange syrup cake for desert and it was excellent.
The Canon  Great service, very friendly staff and perfect views over the rock!
We had a tasty fish soup and there home style spanakopita (spinach pie) was delicious.
The Orange pie desert is a must try too.
There is a main alley with little shops along with  a small art gallery and many of the shops sell hand crafted items too.
Save the best till last !
The View!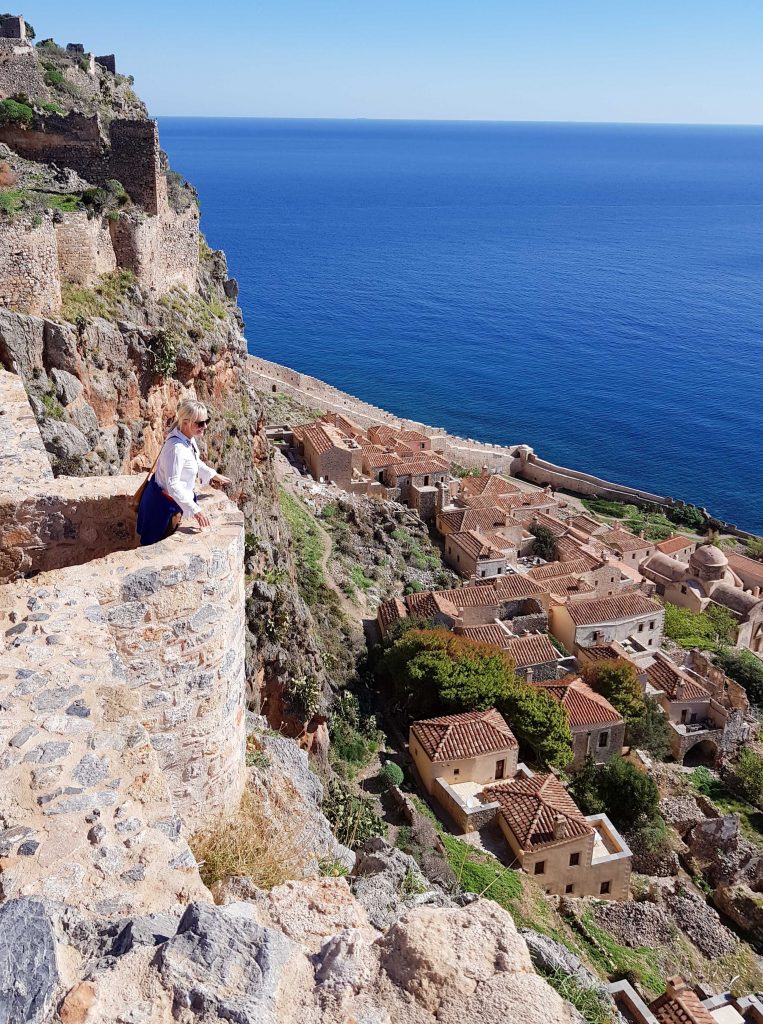 We climbed to the top to see the stunning view over the Aegean and the rooftops of the castle town houses !
Although we went to visit in October Monemvasia is a area for a trip any time of the year and each season will be full of its own delights. The summer months are the high season however the warmth of the people and the little town make Autumn and winter very special too.
I hope you enjoyed my Monemvasia tour and I look forward to hearing your thoughts if you get to visit
Safe Travels
Sandra X